Chimney Cowls & Pots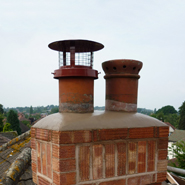 When fitting a stove using a flexible liner in a chimney you will need a chimney pot. Chimney Cowls and pots are the items that you see on the top of a chimney stack. These are the cap for a chimney and are used for a number of reasons. One key feature is that they help prevent rain from coming down the chimney creating a mess in your home when rain mixes with soot and runs onto your stove. When fitting either a multi-fuel or wood burning stove it is also important to have a rain & bird guard fitted to prevent any birds nesting in the flue. Nesting birds can cause smoke to pour back into the room which can also lead to a build up of carbon monoxide which is harmful to your health.
Here at East Coast Flues, we don't just fit rain and bird guards. We fit anti downdraught cowls which stop wind downdraught which is particularly important if you if have high trees or a taller building near the chimney thats in use. We also supply and fit chimney cappers that cap of chimneys that are not in use. also gas terminals for gas fires.
Why not contact us today for a no obligation site visit and quotation to see how we can help you on 07833 430756.