Open Fires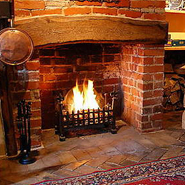 Here at East Coast Flues we supply and fit inset fireplaces and fireplace surrounds from materials such as stone, marble and wood to name a few. Open fires have a very nice homely feel to them and have a great look and can really enhance a home. With open fires We also have to fit a chimney flue liner as it has the same process with a stove but instead of using a 6"" or 5" liner we have to use an 8" flue liner. This is because open fires are not as controlled as a stove and give off alot more smoke.
It is worth considering that an open fires efficiency is only 10% to 20% compared to a stove which is 90% +. If you are trying to heat a good part of your home we would recommend a stove but if you want to just take the chill of the house or you want to heat just the one room then a open fire is a very nice centre piece to your home.
Why not contact us today for a no obligation site visit and quotation to see how we can help you 07833 430756.