Stove Installation - Multi-fuel and Wood burning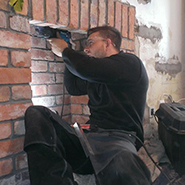 Here at East Coast Flues we install wood burning and Multi-fuel stoves to HETAS regulations. We have an experienced team of professional HETAS fitters that will fit your stove to your needs, pending your fireplace meeting building regulations. We are experts in the install of wood burning stoves and our team are on hand to help you with your options. When it comes to installing wood burners, we know our stuff! Take a look at our gallery for pictures of installs and wood burners we have installed.
Already got an idea of a stove you would like or have already purchased one? Not a problem. We have a flexible team of experts who can work with you and your requirements. If you're not sure on what type of stove would be suitable we can help you. We supply stoves from a very reputable stove company. Our engineers have a wealth of knowledge and can even calculate and what size kw stove you need for the room. You may know a stove by another name... wood burner, wood burning fire, smokeless fuel stove, Multi-fuel stove... whatever your terminology, our team of experts are on hand to help guide you through the process.
Stove recommendations
Here at East Coast Flues we recommend only the highest grade of stove. When dealing with fire, your safety is of the upmost importance. If you have your own stove already purchased we are more than happy to install this for you though.
Below is a list of manufacturers we recommend looking at. Why not contact us today for a no obligation site visit where we can go through these options with you. Contact us on 01502 572177 or 07833 430756
Bohemia stoves
Portway stoves
Did you know?
Wood burning and Multi-fuel stoves are between 70% and 100% efficient and can create a mesmerizing centre piece in your home especially on those cold winter nights.