Twin Wall Insulated Flues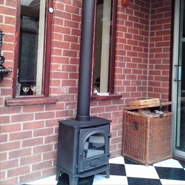 Always fancied having either a contained or open fire in your home? Have you ever thought about having a wood burning stove in your living space but don't have a chimney? Did you know that you can still have a stove fitted even without a chimney?
If your home doesn't have a chimney and you are thinking about having a stove fitted then we can help. Here at East Coast Flues we use a double skinned insulated flue to go either through the property or on the outside of the property where it runs up the side of your home.
Why not contact us today for a no obligation site visit and quotation to see how we can help you on 07833 430756.