Chimney Repairs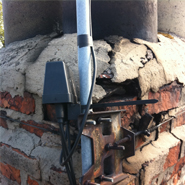 If your chimney has suffered from years of use and looks like it is in need of some attention then look no further than East Coast Flues. Our services include rebuilding of stacks that have deteriorated, removing or rebuilding and general deterioration. If your chimney needs new brick work, repointing or any general maintenance involving your chimney, our team of experts at East Coast Flues can help.
Why your chimney is important
Leaking chimneys are dangerous because they can leak harmful smoke into your or your neighbour's home and into your loft spaces or bedrooms. This can be seen coming into the room through skirting boards or in severe cases, the constructional hearth. Chimney pots made from baked clay have a lower weather resistance than the main chimney stack and therefore crack and wear at a faster rate.
Why not contact us today for a no obligation site visit and quotation to see how we can help you on 07833 430756.