Chimney Lining & Insulation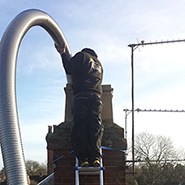 Chimney Lining
It is important to have your chimney lined to prevent chimney fires. Chimney fires are caused when the tar from your fuel sticks to the brick work inside your chimney. This can be very difficult for a chimney sweep to remove as the tar can penetrate through the mortar and brickwork, creating black stains on the inside wall in your home. Your chimney is designed to control the draw of the smoke from your fire. If there was a gap in the brickwork or loose mortar out of the joints then it can stop smoke and carbon monoxide from coming in your home causing a potential health hazard.
Here at East Coast Flues, we offer either a 25 year guarantee liner (which is 904 grade stainless steel) or a 10 year guaranteed liner (which is 316 grade stainless steel). Our recommendation is if you do not plan on staying at your home long term or if you were going to burn just smokeless fuel (which is not as corrosive as wood is) then it would be worth having a 10 year liner installed. If you plan to burn wood and smokeless fuel we highly recommend a 25 year guarantee liner.
We also only use 150mm diameter liner unless the stove is DEFRA approved which means we can then use a 125 diameter liner. A DEFRA approved stove is one that can be used in a smoke-Controlled area like urban, town and city zones. At East Coast Flues we offer a fantastic selection of DEFRA approved wood burning stoves and multi-fuel stoves, from the UK and Europe's leading manufacturers, including Aga, Broseley, Carron, Dunsley, Morso, Stovax, westfire and many more.
Why not contact us today for a no obligation site visit and quotation to see how we can help you on 07833 430756.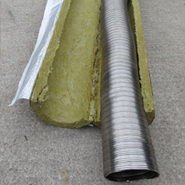 Chimney Insulation
A common question our customers ask us when having a stove installed is do I need chimney liner insulation? Here at East Coast Flues we highly recommend that you insulate a stainless steel chimney liner. The insulation will enable the flue to heat up more quickly and to a higher temperature. This helps reduce the risk of having an inadequate draft. In addition, while the flue gasses stay hot, less creosote will form and less fuel will be wasted. Insulation also helps to prevent any sort of condensation in the chimney.
There are two main types of chimney liner insulation. The most user-friendly chimney liner insulation is the insulation blanket. The blanket is made of a high density insulation material know as alkaline earth silicate. The blanket will get wrapped around the chimney liner the entire length. This will add to the diameter of the chimney liner, so this route is not always practical. We do not recommend the use of standard fiberglass insulation. Fiberglass insulation is not rated for very high temperatures and as such is not fit for purpose.
If your chimney stack is tight and not suitable for blanket insulation, then vermiculite chimney insulation mix is your next option. Vermiculite chimney liner insulation is made of vermiculite and Portland cement. Once the vermiculite insulation is mixed, the insulation is poured around the stainless steel chimney liner. The vermiculite insulation will harden after a week and will provide a zero clearance.
Why not contact us today for a no obligation site visit and quotation to see how we can help you on 01502 572177 or 07833 430756.